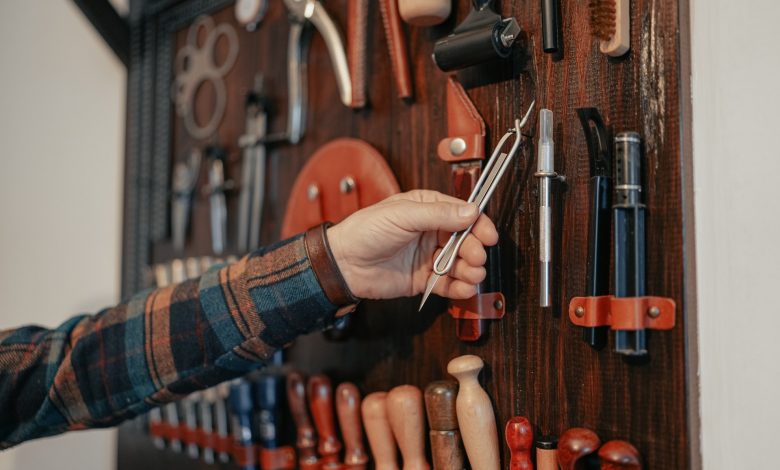 We're often asked what are the essential tools any upcycler should have in their arsenal. In an ideal world, we'd all have a giant craft room that's completely outfitted with every imaginable wood block, frame, and tray ready to be embellished and upcycled. The reality is this: you could spend thousands of GBP by filling up your shopping cart at the craft store, but we guarantee you will still find yourself missing something. So instead of preparing for a craft-a palooza, start with the basics and forget the rest. When you upcycle that cashmere sweater into a patchwork quilt, buy the speciality tools you need to make it happen.
Here are the essentials we think every upcycler will need, as shared by a licensed handyman from Fantastic Services Guildford. The best part is that these are easy to find and inexpensive. Always go for quality, not quantity. 
Sharp Scissors
It is very tempting to reach for the ten-pack of colourful scissors for 10 GBP at the craft store but bypass it. Sharp scissors are the key to getting professional results, so splurge and get the best you can afford. The Fiskars brand is our choice because the blades are coated with titanium nitride for strength and durability. Not only have I been able to cut clean, sharp lines into paper, but I've been able to slice through rope, twine, leather, and other tough materials with ease.
Glue Gun
Our favourite place to buy a professional glue gun isn't the craft shop but the home improvement store. Don't go for the pocket-size, pink-coloured "just-for-women" kind; go for the heavy-duty-contractor one instead. Get an industrial-strength gun that heats up quickly, delivers an even amount of hellishly hot glue, and can be propped to stand upright when not in use without leaking out any melted glue.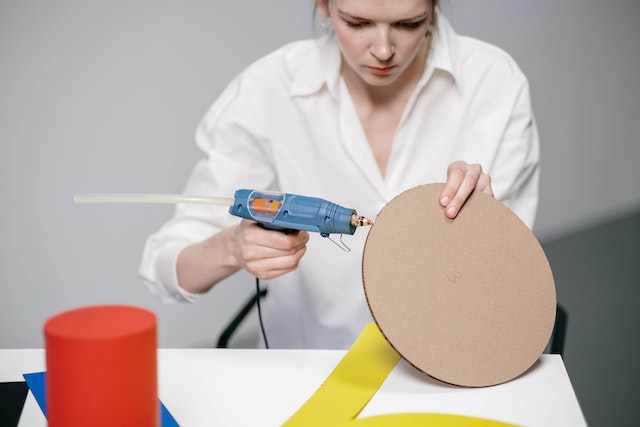 X-Acto Knife
Whenever your scissors are too big to cut an intricate design, or you need to puncture something like a plastic bottle, an X-Acto knife is the way to go. While you are at it, pick up a self-healing mat at the craft store to do all of your paper-cutting projects on. It will protect your tabletop surface and make cutting smoother, cleaner, and easier.
E-6000 Glue
Obsessed is the understatement of the century for how we feel about this adhesive. It is evident throughout this entire article that we found 1,001 uses for this glue. And to be clear: whenever you need to glue something together, when you know hot glue won't do the trick, reach for a tube of E-6000. This industrial-strength glue takes about twenty-four hours to dry fully, but it does one impressive job joining materials together. I could glue an itty-bitty teacup to a heavy ceramic plate with this stuff and hold the two together by the handle of the teacup.
White Craft Clue
We use this stuff all the time for projects when we don't have to worry about making a super-strong hold. Choose whatever brand you either like or is the cheapest. Whether you are glittering or glueing cut-outs onto paper, a squeezable bottle of craft glue is must-have material.
Foam Brushes
At Michael's craft stores, you will often see foam craft brushes in all sorts of sizes on sale for next to nothing. You can buy them in bulk and store them in a large jar in your craft room. They are indispensable for painting unfinished wood surfaces, spreading a light adhesive for silver leafing, decoupaging paper, or anything that calls for a brush. You can even paint the edges of your wall with them.
Goof Off
Walk down the paint aisle at your home improvement store and pick up a bottle of Goof Off. This stuff is great for getting sticky labels off of bottles: if you are upcycling a wine or spirits bottle for a project, those labels can be a complete pain in the you-know-what to remove. Goof Off makes it a breeze. If you accidentally get paint on a tabletop, just squirt some Goof Off, let it saturate, and wipe it right off. We could go on about the thousands of uses for Goof Off, but we know for sure that one little bottle will last a very long time.
Cordless Drill with Bits
Everyone has power and hand tools they purchased that still have the security seal intact on the box. On the other hand, some cordless drills are used pretty much daily. Invest in the best drill you can buy, and ensure you have two rechargeable batteries; while one battery is being used, the other can be charged as a backup. Nothing is worse than being halfway through a project and realising the drill has lost all its juice. Buy all the necessary bits to go with your drill: flat head and Phillips head screw bits and a box of titanium drill bits in various sizes to drill holes into all types of surfaces.
Staple Gum
If there is one thing that every prop stylist has in their toolbox, it is the staple gun. Want to hang up Christmas lights in a cafe-light pattern outdoors? Staple gun. Need to reupholster a chair using an old sweater? Staple gun it into place. Want to make a mini house using book jackets as roof shingles? Yep, staple gun. Fast, powerful, and easy.
Alphabet Stamp Kit and Permanent Ink Pad
Customisation and personalisation are two key ways to make any upcycling project uniquely yours or perfect for giving. If your handwriting is just above the visual excellence of a six-year-old's penmanship, use alphabet stamps to spell out names or phrases. They come in a variety of different font styles at the craft store and in all sorts of sizes; choose the style and size that works best for you. It's enough to have just one ink pad: a black, permanent, indelible pad. Why they make other pads with inks that smudge and easily wipe off is beyond us; make sure you get the pads that leave permanent impressions that are absolutely, positively smudge-free.
Needle Nose Pliers
Needle nose pliers are your crafting tweezers; you can use them to bend the finest wire into loops and closures. You can grab the thinnest needle and thread it through with ease. It will be that occasional tool you will be glad you have when you realise you really need it.
Florist Wire and Tape
Some people buy a bouquet from the supermarket, unwrap it, and just toss it into a glass vase with water and hope for the best. But still, I find florist wire and tape indispensable for non-flower-arranging needs. The wire is great for twisting and bending when making paper or plastic flowers; the tape is fantastic for taking a crazy mess of stray wires from a project and wrapping them all together neatly and easily. Both materials are dirt cheap, so grab some and keep them handy.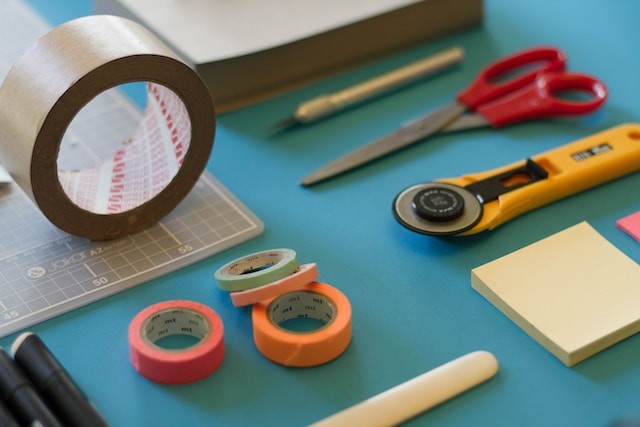 Double-Stick Tape
When you want to attach two pieces of paper together, thin strips of double-stick tape are a simple way to achieve the task. Glue isn't always the solution as an adhesive; single-sided tape just can't get the job done. Keep your double-stick tape in its Ziploc bag; leaving it out in the open is just asking for dirt, dust, and pet hair to attach to your tape roll.
Sewing Kit
Some people have this fear that they'll sew all of their fingers together when they manage to lose control between the speed of the needle and the pedal. Anyway, if you don't share a fear of the machine but are fearful of the hundreds of pounds it costs to buy one, a basic sewing kit can do in a pinch. Budget saver: save several hotel sewing kits in your arsenal. Splurge: invest in several spools of string, sewing needles, and a seam cutter.
Twine
A big spool of uncoated, all-natural twine can be used for an almost endless number of projects. Tie-dye some sheets? Make knots with twine. Need a make-do drying line outdoors to air-dry your just-dyed sheets? Run some twine between two trees. Want to hang up an upcycled pendant light? Use a few pieces of twine twisted together.